News
The Biggest Gas-Related Causes of A&E Admissions
Gas-related accidents can have catastrophic results and are often triggered by faulty appliances, but there are several life-saving ways to minimise this risk.

The team at Bensons Gas Engineering has analysed NHS Digital reports from 2010-11 to 2020-21 to find out the most common causes of gas-related incidents and identify any changes over the years. The findings revealed that 2,466 gas-related A&E admissions occurred in 2020-21, and a staggering 29,275 took place over the last ten years.
On top of this, the team analysed five years' worth of flammable gas incidents, up until 2019/20, reported to the Health and Safety Executive (HSE), which regulates workplace health and safety.
In this guide, learn how to prevent the UK's biggest gas-related accidents and emergencies in the workplace.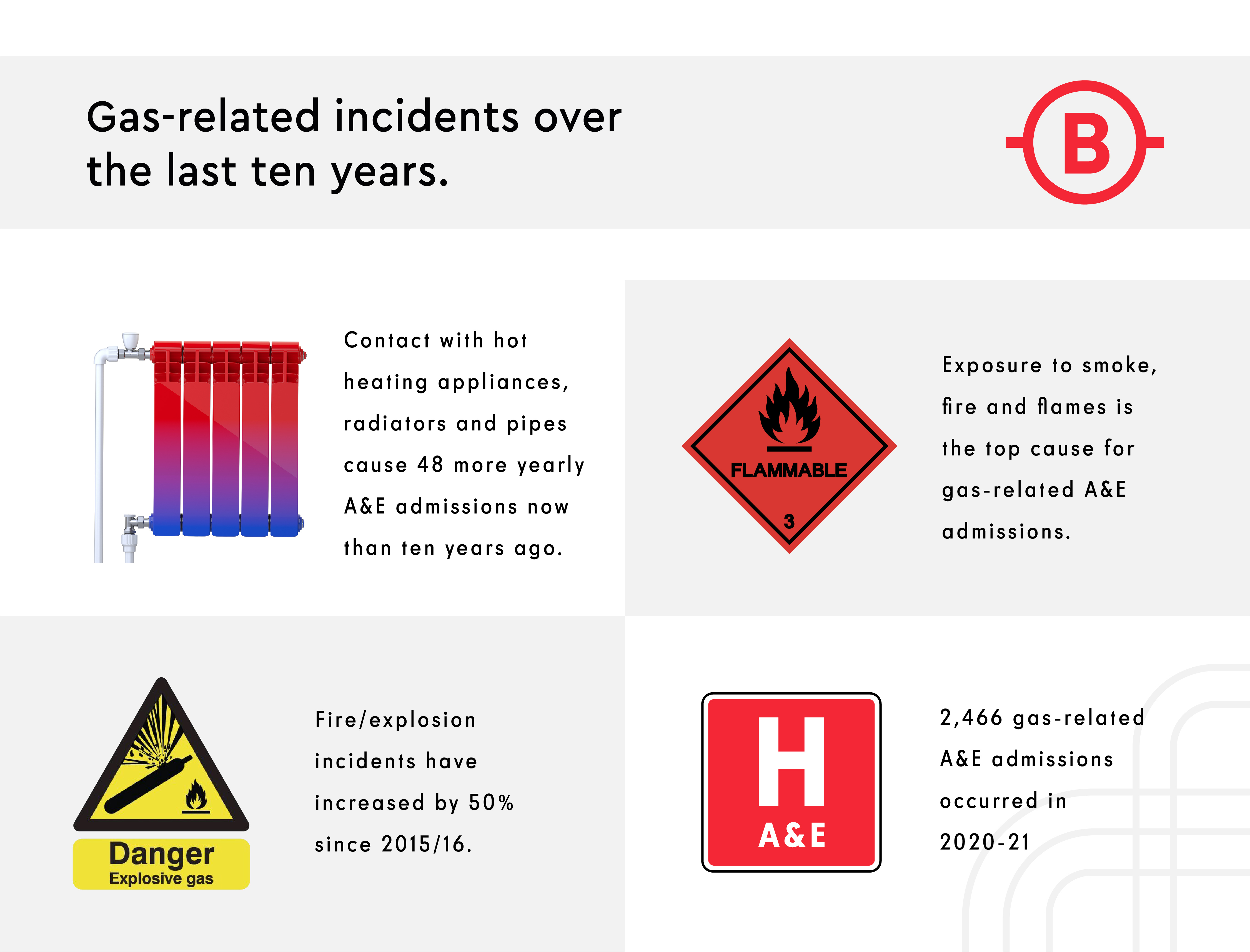 Hot heating appliances
Contact with hot heating appliances, radiators and pipes was the only external cause that increased A&E admissions in ten years. In 2020/21, there were 851 admissions reported, 48 more than in 2010/11.

If workers come into contact with hot equipment, they could suffer from heat or friction burns. To minimise this risk, identify the hot work hazards and implement suitable control measures such as:
Creating a designated and restricted workspace for hot work e.g. welding.
Hiring employees fully qualified to handle hot equipment safely.
Using fire-retardant equipment where appropriate.
Providing personal protective equipment (PPE) to employees.
Hiding exposed pipes with pipe covers.

If hot work is conducted, the employer will also need a permit under the Hot Work Permit program.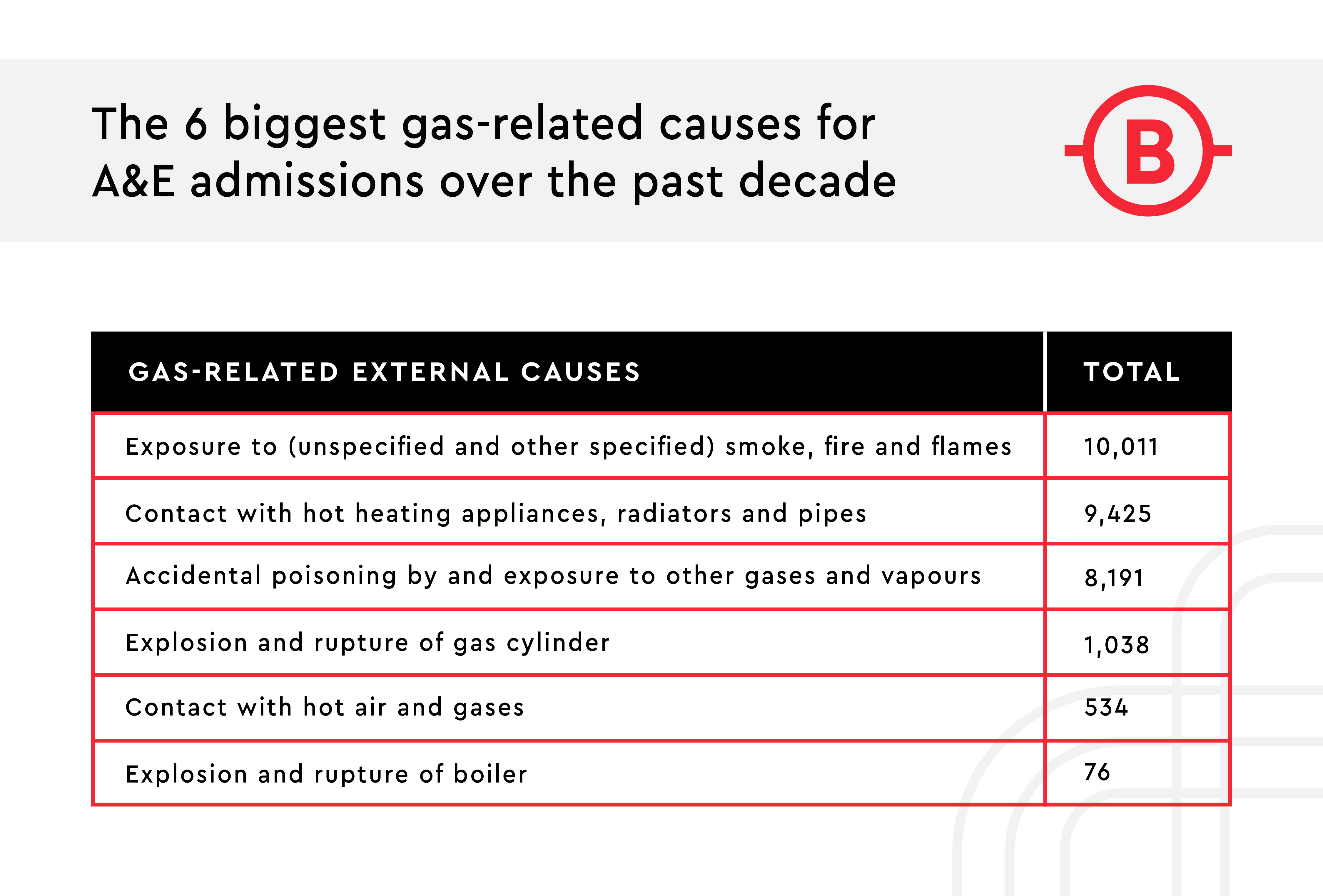 Fire, smoke, and explosions
Exposure to smoke, fire and flames is the most common reason for gas-related A&E trips, with 10,011 occurring in the last decade and 803 through 2020-21. 

There has also been a 50% increase in flammable gas fire and explosion incidents reported to HSE since 2015/16 and a rise in yearly fatalities from one to eight over the five-year timeframe.

Gas leaks can cause fires and explosions. To minimise this risk, a Gas Safe Registered engineer should annually check the safety and compliance of commercial gas appliances such as boilers.

Unfortunately, you can't eliminate the risk of fires entirely. However, to ensure workers are alerted if a fire occurs and minimise the risk of smoke inhalation, install smoke alarms in each room, hallways and on each storey of the property.

Also, along with following manufacturer's requirements, test the smoke alarms at least monthly, change the batteries annually and replace the alarm itself every ten years. Replace the batteries immediately if the low battery alert sounds. 

Inhaling harmful smoke can be fatal as it can inflame your lungs and airway, making them swell and block oxygen leading to acute respiratory distress syndrome and respiratory failure.

All business premises must also have an appropriate fire detection system in place. According to the UK Government website, the responsible person (landlord, employer, building manager, owner etc) must: 
Conduct a fire risk assessment of the premises and review it regularly.
Inform staff or their representatives of any identified risks.
Implement and maintain appropriate fire safety measures.
Prepare for an emergency.
Inform, instruct, and train staff on fire safety.

Installing fire alarms will maximise the fire safety of the building. To ensure it's working efficiently, test it weekly and get it inspected by a BAFE (British Approvals of Fire Equipment) accredited company at least every six months.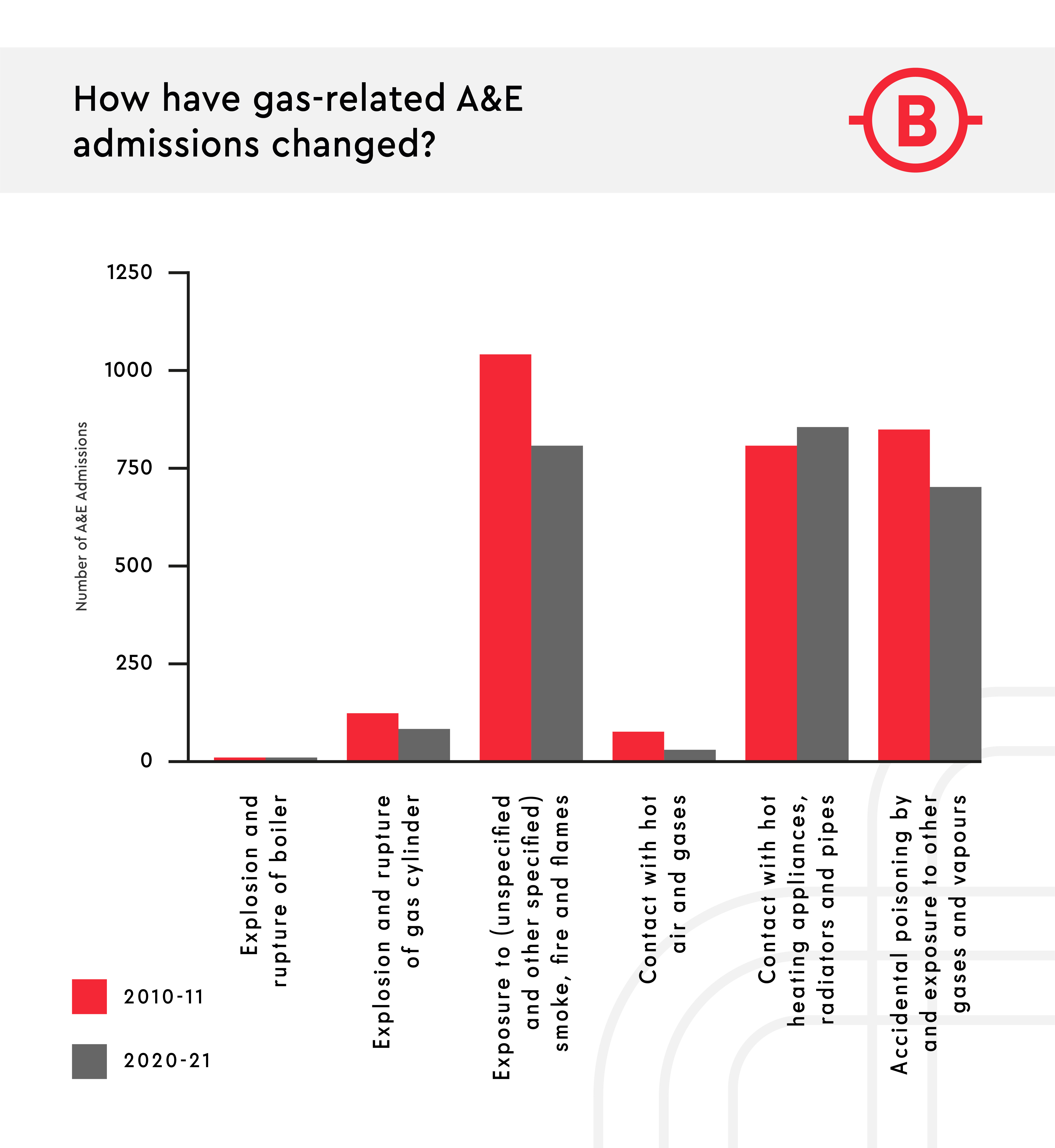 Exposure to gas
The third biggest gas-related cause, with 8,191 A&E admissions over ten years, was accidental poisoning by and exposure to other gases and vapours. Contact with hot air and gases came in fifth, resulting in 534 admissions in the decade of analysed reports.

The cause cited as 'other exposure, e.g. to unburnt gas' by HSE hasn't caused fatalities during this timeframe, according to the report. However, the overall incidents related to this cause has increased by 115.38%. 

Signs and symptoms of a gas leak: 
Rotten eggs smell.
A hissing noise.
Dying plants.
 
The smell of gas is one of the most well-known indications of a leak, but in a recent survey, nearly a fifth (23%) wouldn't even raise the alarm if they could smell gas.
A gas leak can cause physical symptoms such as:
Headaches.
Dizziness.
Fatigue.
Sickness.
Irregular breathing.

A gas detector can alert you to slow gas releases that may not produce enough natural gas to be detectable and help those without a sense of smell to identify a leak.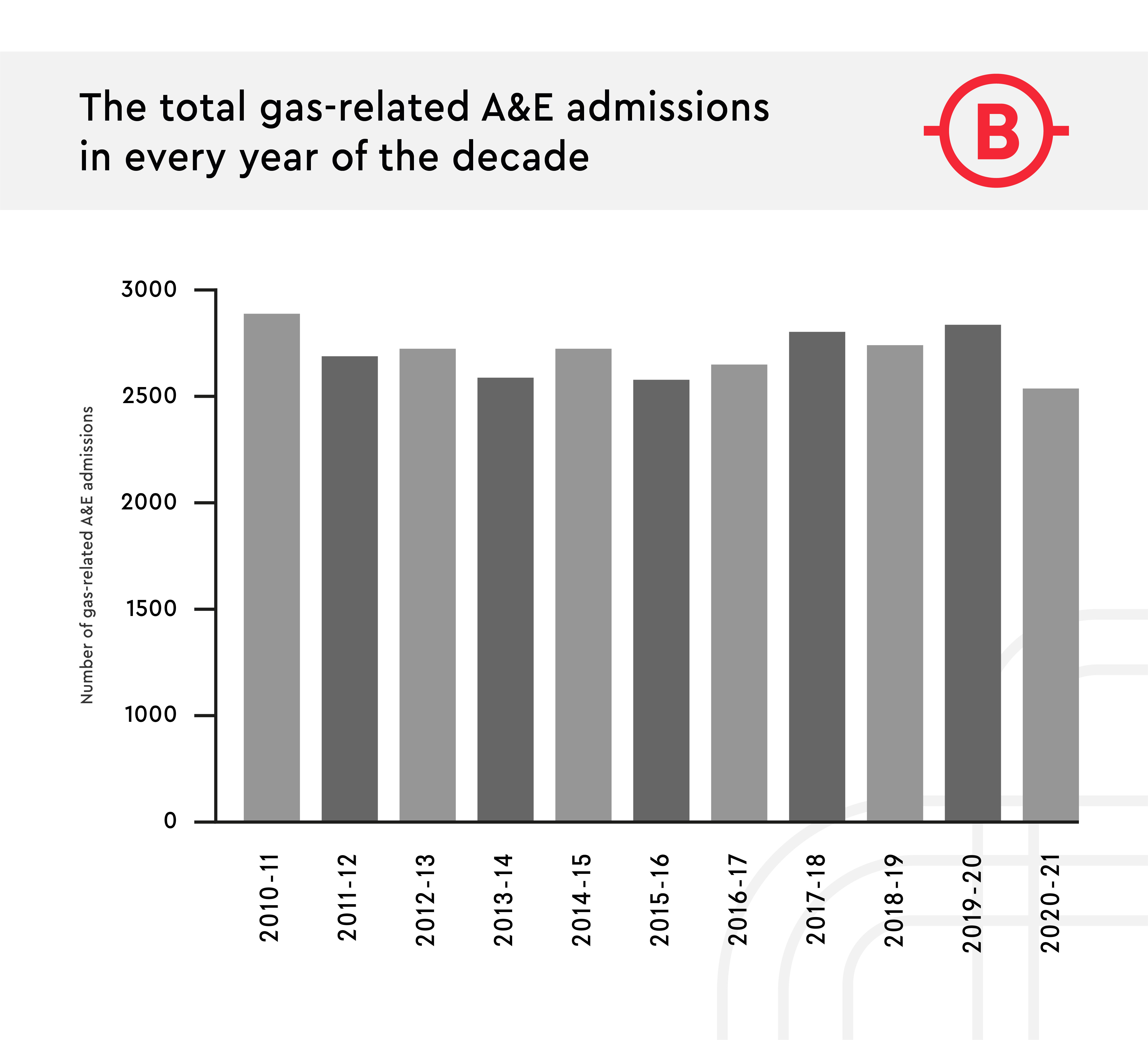 Gas cylinder explosions
Explosion and rupture of gas cylinders was the fourth-highest gas-related cause, with 1,038 admissions over ten years. 

Many industries involve the use of gas cylinders, such as manufacturing, automotive, medical and hospitality. When working with gas cylinders, there are stringent safety measures to implement to prevent explosions. 

In a workplace environment, an appropriate inspection body should periodically examine gas cylinders and valves before putting them into service to check they meet the approved standards.

Anyone handling gas cylinders, such as by filling, manufacturing, or repairing them, should be suitably trained, qualified, and supervised as well as wearing appropriate personal protective equipment. 

Here are some safety tips to avoid gas cylinder explosions: 
Keep the area it's stored and used ventilated.
Return used gas cylinders to the stockist rather than throwing them away.
Don't overtighten the joints.
Install a gas leak detector.
Before changing cylinders, turn off the valves or gas taps before disconnecting. 
Only change a cylinder in the open air. 

In September 2021, a fire occurred at a commercial property in Dewsbury, which West Yorkshire Police believed was caused by a gas cylinder explosion. There were 12 fire engines at the scene and locals were urged to avoid the area.
Explosions and ruptures of boilers
The research found that the explosion and rupture of boilers was the sixth biggest gas-related cause, with 76 admissions over the last ten years. An explosion typically occurs if the boiler is overheating, overpressurised, or has a weak shell or parts. 

To prevent this risk, arrange for a yearly boiler service to take place, which checks the individual components are functioning correctly, as well as the gas safety checks.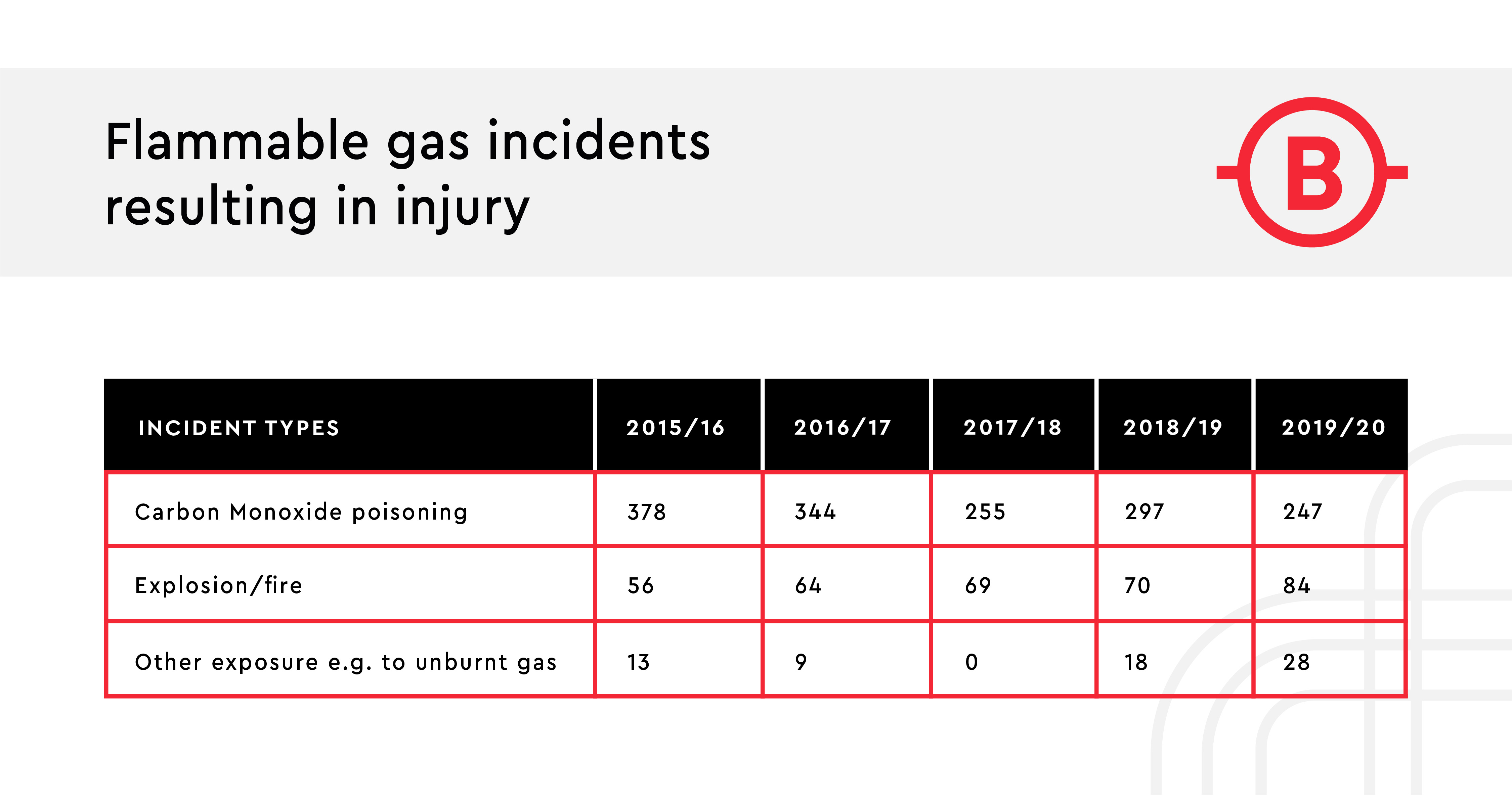 Carbon monoxide poisoning
According to our research, workplace fatalities caused by carbon monoxide (CO) poisoning have completely plummeted since 2015/16. The overall incidents reported to HSE had also decreased by 34.65%, but there were still 247 incidents reported to HSE in 2019/20. 

Although it's reassuring to see the reduction in workplace fatalities, exposure to CO can have severe long-term effects, including lasting brain damage. Applying preventative measures is crucial in keeping workers safe, including: 
Maintaining and servicing gas appliances, pipework and flues.
Use a qualified engineer to install, maintain, and repair appliances.
Installing and regularly testing CO detectors.
Don't use equipment that you suspect may be unsafe.
Providing adequate ventilation in all rooms with gas appliances.

It's not easy to identify a CO leak, as it doesn't produce a smell or taste, so it's critical to ensure everybody is aware of the physical symptoms it can cause. 

The physical symptoms are similar to a gas leak, but CO poisoning can often be mistaken for the flu or a hangover because it doesn't smell. Yet, there are some differences between the symptoms as CO poisoning doesn't cause a high temperature, and the symptoms can disappear when you leave the property.
What to do if you have a gas or CO leak?
If you or somebody in the building is concerned that a gas or CO leak has occurred:
Turn off the gas supply.
Evacuate everyone from the property immediately.
Go outside for fresh air.
Call the 24-hour National Gas Emergencies on 0800 111 999 for natural gas.
For liquefied petroleum gas (LPG), call your LPG supplier.
Call the police.

It's imperative that nobody returns to the property or turn the gas supply back on until the Gas Safe Registered professional has found and fixed the gas leak.
Seek immediate medical attention if anyone is feeling unwell and showing signs of CO poisoning.

Dale Goodman, Manager at Bensons Gas Engineering, said: "This large number of gas-related accidents and emergencies is extremely worrying, especially as these types of incidents are often avoidable.

"Many of these gas-related causes of A&E admissions can be triggered by a gas leak, which you can prevent with regular professional maintenance and servicing of gas appliances.

"Neglecting the gas safety of a property can have catastrophic consequences as faulty gas appliances can lead to carbon monoxide poisoning, fires, and even explosions. Arranging for this yearly safety check is a quick and straightforward task that could be life-saving.

"It's crucial that a Gas Safe Registered engineer qualified to the correct level checks the safety of gas appliances, rather than attempting it yourself. Work that relates to natural gas appliances within a building is never a DIY job, and treating it as such can be extremely dangerous.

"As well as implementing safety measures to prevent these types of incidents, and having thorough planned preventative maintenance schedules in place, it's also essential to prepare for the worst-case scenario, as some accidents are unforeseeable.

"Everybody should be clued up on the potential signs of a gas or carbon monoxide leak so that you can address it quickly and stop it from escalating into a life-threatening situation."
Do you need your commercial gas appliances serviced?
Bensons Gas Engineering provides commercial gas engineering services to companies across the North of England. To ensure your business is operating safely and complying with industry standards, get in touch with a team member and get a free quote for your commercial gas engineering requirements.